Bryan Guy Adams
, (born November 5, 1959) is a Canadian rock singer-songwriter, guitarist, producer, and photographer. Adams is the bestselling Canadian male recording artist of all time and has won dozens of awards and nominations, including 18 Juno Awards among 56 nominations, including wins for Best Male Artist in 2000 and Male Vocalist of the Year in 1997 and every year from 1983 to 1987, as well as Junos for Producer, Composer, and Songwriter of the Year.
He has also had 15 Grammy Award nominations including a win for Best Song Written Specifically for a Motion Picture or Television for "(Everything I Do) I Do It for You" in 1992. He has also won MTV, ASCAP, and American Music awards. In addition, he has won two Ivor Novello Awards and has been nominated for several Golden Globe Awards and three times for Academy Awards for his songwriting for films. Adams is also a self confessed fan of current English Premier League Champions Chelsea F.C.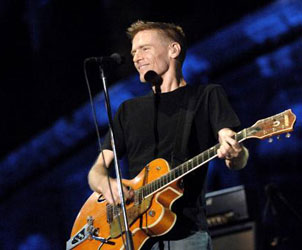 Bryan Adams
was awarded the Order of Canada and the Order of British Columbia for contributions to popular music and philanthropic work via his own foundation, which helps improve education for people around the world. He is a well known photographer.

Bryan Adams
was inducted into Canada's Walk of Fame in 1998, and in April 2006 he was inducted into the Canadian Music Hall of Fame at Canada's Juno Awards. In 2008, Bryan was ranked 38 on the list of All-Time top artists by the Billboard Hot 100 50th Anniversary Charts. On January 13, 2010, he received the Allan Waters Humanitarian Award for his part in numerous charitable concerts and campaigns during his career, and on 1 May 2010 was given the Governor General's Performing Arts Award for his 30 years of contributions to the arts. His sales number has varied from a low 65 to a high 100 million sold records worldwide.

Early Years
Bryan Adams
was born in Kingston, Ontario, to English parents. From his grandmother he also inherited a Maltese ancestry. As Adams's father was a diplomat, he grew up travelling around the world with his parents. Subsequently, most of his youth was spent growing up in England, Israel, Portugal, and Austria, part of the time in Birre, Portugal, situated close to Lisbon, where he attended St. Julian's School. In 1973, Adams's family returned to Canada and settled down in Vancouver, British Columbia, where he attended Argyle Secondary School. He moved to Ottawa, Ontario and attended Henry Munro Middle School.
His musical goals began during his teenage years, and as he explained to Carlo D'Agostino from Rolling Stone magazine, "In high school, I was too far into my music to even pay attention to girls." He washed dishes, sold pet food, and worked in record stores, and at the age of 15, Adams quit school to play in nightclubs with bands like Shock and Sweeney Todd, who released an album called If Wishes Were Horses with the fifteen year old Adams as lead singer.

In 1978, at the age of 18, Adams sent a few demo recordings to A&M Records in Toronto. Not long afterwards he signed with them for the sum of one dollar. Some of the first demos written in 1978 have surfaced over the years, most notably "I'm Ready" (recorded for both the album Cuts Like a Knife and later his release for MTV Unplugged) and "Remember", which was recorded on his first album. Both songs were covered by other artists even before his first album was released. Also recorded during this time was Adams's first single, "Let Me Take You Dancing", which made the Canadian RPM chart in March 1979 (the b-side was entitled "Don't Turn Me Away").

1980s
His self-titled debut album was released in February 1980, and marked the beginning of what was to become a long songwriting partnership between Adams and co-writer Jim Vallance. With the exception of "Remember" and "Wastin' Time", most of the album was recorded from October 29 up until November 29, 1979 at Manta Studios in Toronto and co-produced by Adams and Vallance. The album was certified gold in Canada in 1986.

Adams's second album, You Want It You Got It, was recorded in New York City in two weeks and it marked Adams's first album co-produced by Bob Clearmountain. It was released in 1981 and contained the FM radio hit "Lonely Nights," but it was not until his third album that he achieved international recognition, popularity and sales. Adams also co-wrote many songs for other bands during this time including "War Machine" and "Rock and Roll Hell" for Kiss, and "No Way To Treat A Lady" for Bonnie Raitt.

Heaven" would become the most successful single from Reckless at the time of its release on the pop charts, reaching number one on the Billboard Hot 100 and number nine on the mainstream rock chart. "It's Only Love" was nominated for a Grammy Award for Best Rock Vocal Performance by a Duo or Group. In 1986, the song won an MTV award for Best Stage Performance. After the release of the album, Adams was nominated for Best Male Rock Performance. The album is Adams best-selling album in the United States and was certified five times platinum.

In December 1984, Adams and his touring band, which consisted of Keith Scott, Dave Taylor, Pat Steward and Johnny Blitz, played concerts in Chicago, Detroit, New York and Philadelphia. In early 1985, Adams started a tour throughout the United States, then later Japan, Australia, Europe and at last Canada. After winning four Juno Awards, Adams started a Canadian tour through major cities across that country. Later he headed south towards the American West Coast, culminating with two dates at the studded Paladium in Los Angeles.

After the tour in the United States, Adams traveled to Ethiopia to aid famine relief in the country. Adams was also part of a grand ensemble of Canadian artists named Northern Lights, who recorded the song "Tears Are Not Enough" for the African famine relief effort. Adams later headed back to Europe for a fifty-city concert tour with rock singer Tina Turner, culminating in April with his return to London to headline three sold-out shows at the Hammersmith Odeon in London. Adams began the first leg of his tour entitled "World Wide in 85" which started in Oklahoma and ended in October 1985. Adams would later visit Vancouver, Canada, and afterward returned to the American East Coast to play two sold-out concerts in New York.

1990s
Adams's next album, Waking Up the Neighbours, co-produced by Adams and Mutt Lange, sold over ten million copies worldwide and peaked at number six on the Billboard 200. It was even more successful on the other side of the Atlantic, reaching number 1 on both big European markets, the UK and Germany. The album was released in September 1991 and featured the power ballad "(Everything I Do) I Do It for You".

This song was featured in the movie Robin Hood: Prince of Thieves, starring Kevin Costner and Alan Rickman. The single topped the charts in numerous countries around the world including big markets such as the US, the UK, France, Australia and Germany. "(Everything I Do) I Do It For You" spent a record-breaking sixteen weeks at number one on the UK Singles Chart. It also achieved record-breaking sales of four million copies in the US.

Canadian content regulations were revised in 1991 to allow radio stations to credit airplay of this album towards their legal requirements to play Canadian music. Adams won a Grammy Award in 1991 for Best Song Written Specifically for a Motion Picture or for Television.

In November 1993 Adams released a compilation album entitled So Far So Good, that again topped the Charts in numerous countries such as the UK, Germany and Australia. It included a brand new song called "Please Forgive Me", that became another number 1 single in Australia as well as reaching the Top 3 in the US, the UK and Germany. In 1994 he collaborated with Rod Stewart and Sting for the single "All for Love", another power ballad written for a movie. The single topped the charts worldwide. It was followed in 1995 by Adams 3rd movie song, "Have You Ever Really Loved a Woman?" (song released with the Motion Picture Soundtrack of the movie Don Juan DeMarco).

Social activist
Most of Adams's philanthropic activity is dedicated to his foundation "The Bryan Adams Foundation", which aims to advance education and learning opportunities for children and young people worldwide, believing that an education is the best gift that a child can be given. The Foundation's area of support is broad and far-reaching, enabling grants to be given for projects supporting the elderly, victims of war and natural disasters, and those suffering from mental or physical illness. The foundation is completely funded by his photographic activities.

Since the 1980s, Adams has participated in concerts and other activities to help raise money and awareness for a variety of causes. His first high profile charity appearance came in 1985 when he opened the US transmission of Live Aid from Philadelphia. In June of the next year, Adams participated in the two-week Amnesty International "A Conspiracy of Hope" tour alongside Sting, Richard Marx, Mariah Carrey, Celine Dion and Tommy Page. His next appearance for Amnesty was in February 1987 on Rock For Amnesty with Paul McCartney, Sting and Dire Straits, among others.

Playing in the U.S. section of Live Aid, Adams did not get the chance to play at Wembley Stadium; however, another opportunity came in June 1987 when Adams played there at the 5th Annual Prince's Trust Rock Gala along with Elton John, George Harrison, Ringo Starr and others. Adams was to return to Wembley Stadium the following year when he performed at the Nelson Mandela birthday party concert.

Discography
* Bryan Adams (1980)
* You Want It You Got It (1981)
* Cuts Like a Knife (1983)
* Reckless (1984)
* Into the Fire (1987)
* Waking Up the Neighbours (1991)
* 18 til I Die (1996)
* On a Day Like Today (1998)
* Room Service (2004)
* 11 (2008)
I Finally Found Someone feat Barbara Striesand
From This Moment feat Shania Twain
I'll Be Right Waiting For You
Heaven
Please Forgive Me
All For Love feat Sting and Rod Steward (OST Three Musketeer)
The Summer of 69
Everything I do (I Do It For You) (OST Robin Hood)
The Best Day of My Life
Wherever You Go
Run To You
When You Love Someone
It's Only Love feat Tina Turner